Hello 😊
We booked a few days away in Melbourne and decided to try another airbnb, found one in Collins St opposite The Block arcade.  Great location, Aaron the owner was very helpful.  So, going to Melbourne, better book a show! Had a look what was on, booked Book of Mormon, has had great reviews.  Also booked high tea in Parliament House and a tour after, guess we are winging the rest!!
Flight was at 9.45am but there was a half hour delay, that is when the Qantas club comes into its own! Saw a colleague in there who was off to Sydney and a South Pacific cruise with her husband.  As we headed to our flight saw friends Kathy & Robin who were also on the same flight but heading to Canberra.  We had exit row seats which was more comfortable.  Has been 18 months since we have flown, you have to pay for these now!
When we landed in Melbourne, Greg ordered an Uber.  Somehow he was able to link Aaron into the ride and he could follow where we were! He was there to meet us at his apartment and showed us how everything worked.  Great apartment with everything we need.
It was lunchtime, so we left our bags and headed out.  Found DeGraves St and somewhere to eat.  At lunch I messaged S & C to ask if they could give us some ideas for places to eat and sites to see while we were here.  They were wonderful.  S messaged straight back with pages of ideas.  At the same time C messaged back with a map with some of S ideas already on there.  That helped enormously, during the afternoon I got a plan together! ??
We headed out to Rice Paper Scissors for tea, a modern Thai restaurant.  We had to queue to get in.  Standing right in front of us was Aaron! We chatted until we were seated and he recommended a few dishes.  The food was delicious and the staff were great.   After dinner we headed over to the Princess Theatre which was nearby, to see The Book of Mormon.  We were early, so Greg found a rooftop bar nearby (there are lots of these in Melbourne as well as laneways) called Siglo, was a great spot with lots of character overlooking Parliament House, a few people were smoking Cuban cigars.  We had a drink then headed to the theatre.
The show was funny, the choreography brilliant.  Thought the second half was better than the first.   The show has got rave reviews.  I am in the minority.   I gave it a 7.
On Friday morning we headed to Artvo in the Docklands, caught an uber.  It is an immersive gallery, you interact with the painting, someone takes a photo of you and it becomes 3D.  We had lots of fun taking photos and had a laugh.   We headed to the water for lunch, view was great food pretty average.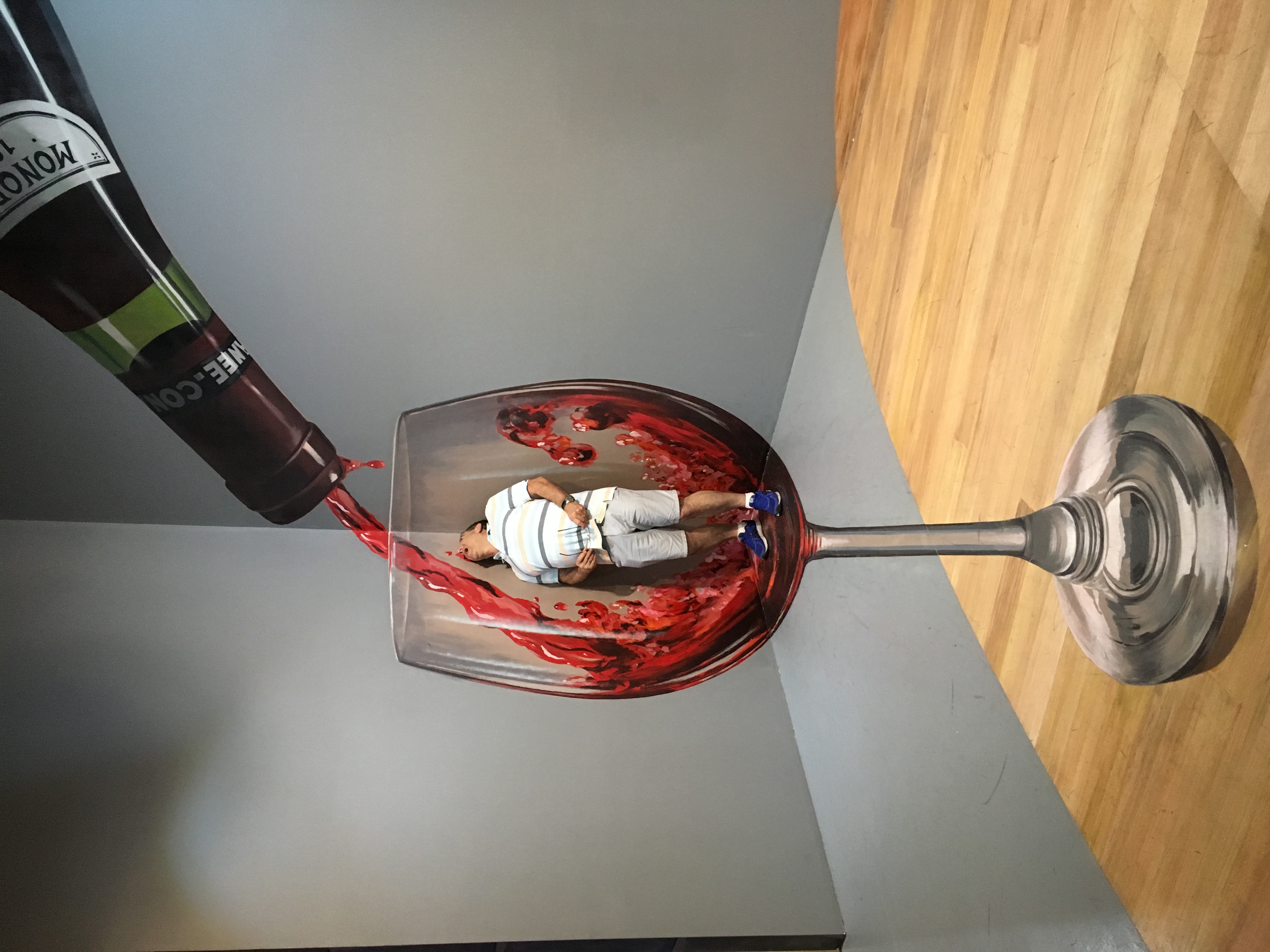 After lunch we hopped on a tram and headed up to the jail.   We were too late for the tour, so we walked down to the library.  They were helpful at the front desk, gave us a map, told us to head up to the 6th floor and walk down from there.   The view from the sixth floor was stunning.  It overlooked the reading room below.  We enjoyed taking in the history (built 1856) and even saw Ned Kelly's armour.   Well worth a look.  Fabulous building.
On the way home we had a look around the block arcade, then went next door for cake at Laurent Boulangerie Patisserie.   Was nice to imagine we were back in Paris!
For dinner we went to an Italian restaurant in a laneway around the corner Acca Roni. We both ordered pizza.  Was far too much, so we took the rest back to the apartment and had it for tea on Sat night.
We watched the Crows play in the preliminary final.  Was great to see them start so strong.   Geelong were never in the game!  Grand Final next week.  It has been 19 years since their last Grand Final win.
On Saturday we caught an Uber to Fitzroy and went to the Rose Street Artists market, a great market.  I enjoyed wandering around.  Afterwards we enjoyed walking around Fitzroy, lots of great old houses, laneways full of artwork, so much character.  We came upon this huge warehouse, Lune, with lots of people gathered around, inquisitive we went and had a look.  They were making and selling croissants and coffee, they looked amazing, they must have been, so many people were sat around on benches and the floor eating croissants and pastries.  So of course we bought ourselves one, even though we weren't hungry!!  Was yummy!   Afterwards we walked some more!   We both loved Fitzroy, went in an amazing butcher shop, flower shop, all very upmarket. Loved it.   We found Centre for contemporary photography.  But unfortunately it was closed for the installation of a new exhibition opening in a few days!   More food!! Yes we headed to Jimmy Grants for lunch and both had a small kebab! The best I have had.    We caught another Uber back to the apartment and rested for a few hours.
We headed out later, saw hundreds of people lining up for Connies memorial service (love your sister) at St Paul's Cathedral.  There was a Greek wedding that had just finished, all very nicely dressed.   The photographer was encouraging us to get in the group photo until he saw what we were wearing ?   Was all very posh with a horse and carriage too!!   There were lots of Richmond supporters heading to the game too.   We took in  the National gallery of Victoria which we enjoyed.  On our way out we found a gallery selling glass artwork and bought ourselves a bowl.   After we headed back to the apartment to watch the Richmond vs  GWS game.  Richmond won and will be playing the crows next Saturday.
Sunday
We had another good nights sleep, must be all the walking!   We headed down over the bridge to the Arts Centre market, afterwards we noticed the NGV International so we headed over to have a look. The Dior exhibition was on.   I was not intending to go and have a look.   After all we are both such dags!! But we were there, so we did. There was a short lineup, then we were in, along with hundreds of others! Was bumper to bumper people.  But I loved it.  Gorgeous clothes, 70 years of Haute Couture.   I especially loved the colorful clothes and took photos to show E, my rainbow girl, I thought she would love them.  We were only in there 30 mins, we are not ones to slowly absorb galleries or museums it is always a fast absorption of culture for us.  I was sceptical, but highly rate it, Greg on the other had gave it a 4!
Then we were on the tram heading out to St Kilda, ingressing (our game) all the way, as we have been while in Melbourne! So many unique portals!! The beachside market was only at 2/3 capacity  and the quality has deteriorated over the years.  So we headed to Hastings St and lunch at Abbey Road cafe.  We sat down at a table outside, as we did, one of the staff handed me a receipt and credit card.  I quickly explained we had just sat down.  He went off and eventually found the owner of the card!   We chatted about what to do for the rest of the afternoon and dinner tonight and before you know it I had booked us a table at Vue de Monde.   I was excited we could get in, have wanted to eat there for years.
Dinner was amazing as was the view from the 55th level of the Rialto Tower.   Was a perfect evening, one I will remember.
It is Monday morning now, bit drizzly! This afternoon we are heading to Parliament House for High tea and a tour of the house.   Looking forward to it.
We head home tomorrow. has been 5 years since our last visit to Melbourne.  Hope it won't be as long to the next one!  I love the cosmopolitan feel of Melbourne, the laneways, restaurants,  beautiful old buildings.  Thank you S & C for your suggestions they added to our time here!
We hope to be frequenting our blog more often, so many places to visit, so little time!
deb
Number of View :362