We managed to get to the airport ahead of time, no "Oooops" moments this trip. 🙂
After a short, 35 minute flight to Kingscote with Rex Airlines we were met at the airport by one of the guides from Southern Ocean Lodge. There were 5 guests of the lodge on our flight, including us. Another couple from Adelaide who had been out here last year at about this time and a travel writer from Chicago, America. She has a really tough time on her trip to Australia, a whirlwind 2 to 3 night stay at each of about 4 of the best boutique resorts in the country before she heads out. Here on KI, her brief includes eating (I mean sampling,lol) as much of the local produce as possible. Tough job.
 It took about an hour to drive to the Southern Ocean Lodge (SOL) at Hansen Bay. We got dropped off at the end of a covered walkway that lead to two very large solid wooden doors. As we approached them two staff members opened the doors for us and we got our first view of the "Great Room" and the view!
The view was amazing, translucent deep blue sea with waves crashing onto a mix of exposed limestone outcrops and sandy white beach, with rugged cliffs continuing for as far as the eye could see.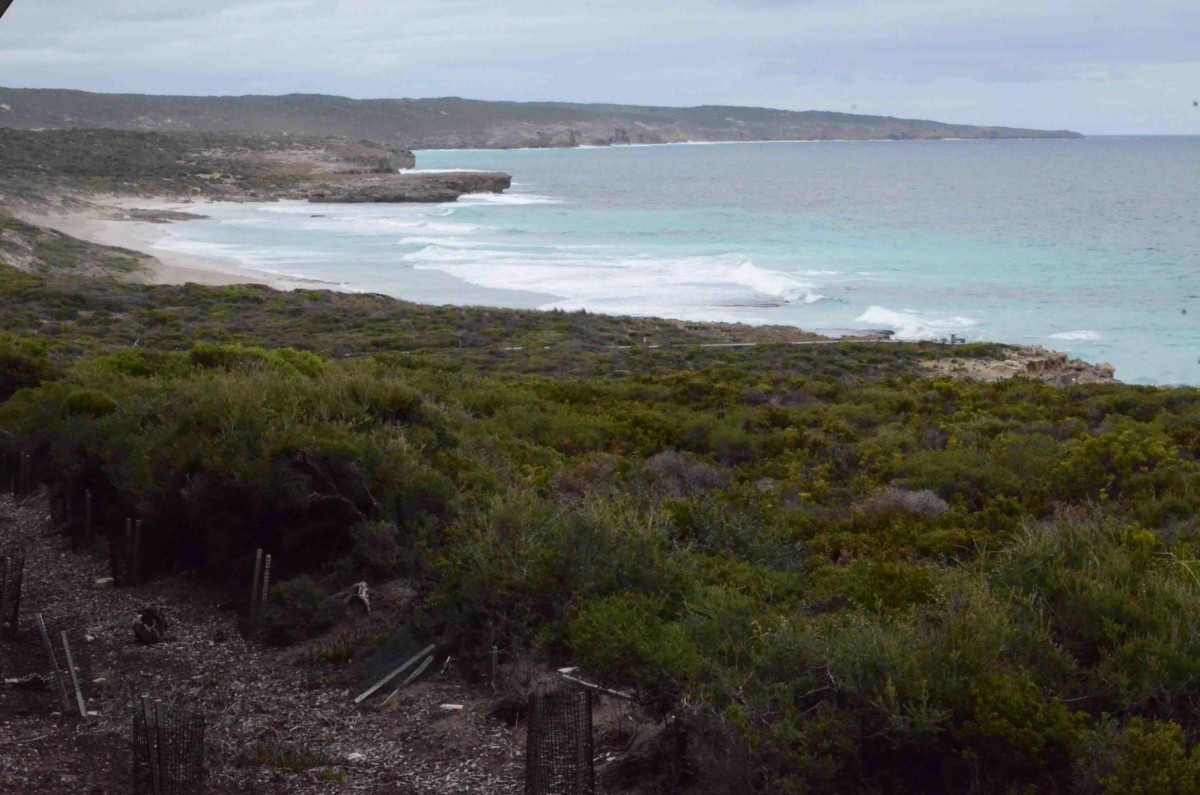 After being greeted by the staff, we were taken into the Great Room and seated by the glass wall overlooking the expansive view. We were given a welcome drink, and then one of the staff took us through a planned itinerary for us for the next 4 days, and all the services and facilities offered at the SOL, from the open bar and wine cellar (premium wines – Grange, Bolinger, etc excluded), to the dining room, mountain bikes and health spa. The SOL has 21 suites, all contained in a single wing that stretches from the Great Room. We were then taken to our suite, The Montebello (Every suite is named after a KI shipwreck, so they had plenty of names to choose from) suite 11, half way along the 250m long guest suite walkway. Similar to the Great Room, our suite has amazing views to the ocean and along the coast, with floor to ceiling windows in our private lounge and bathroom. The bath sits adjacent to the window, so you can lie there and just soak up the view while you soak in style.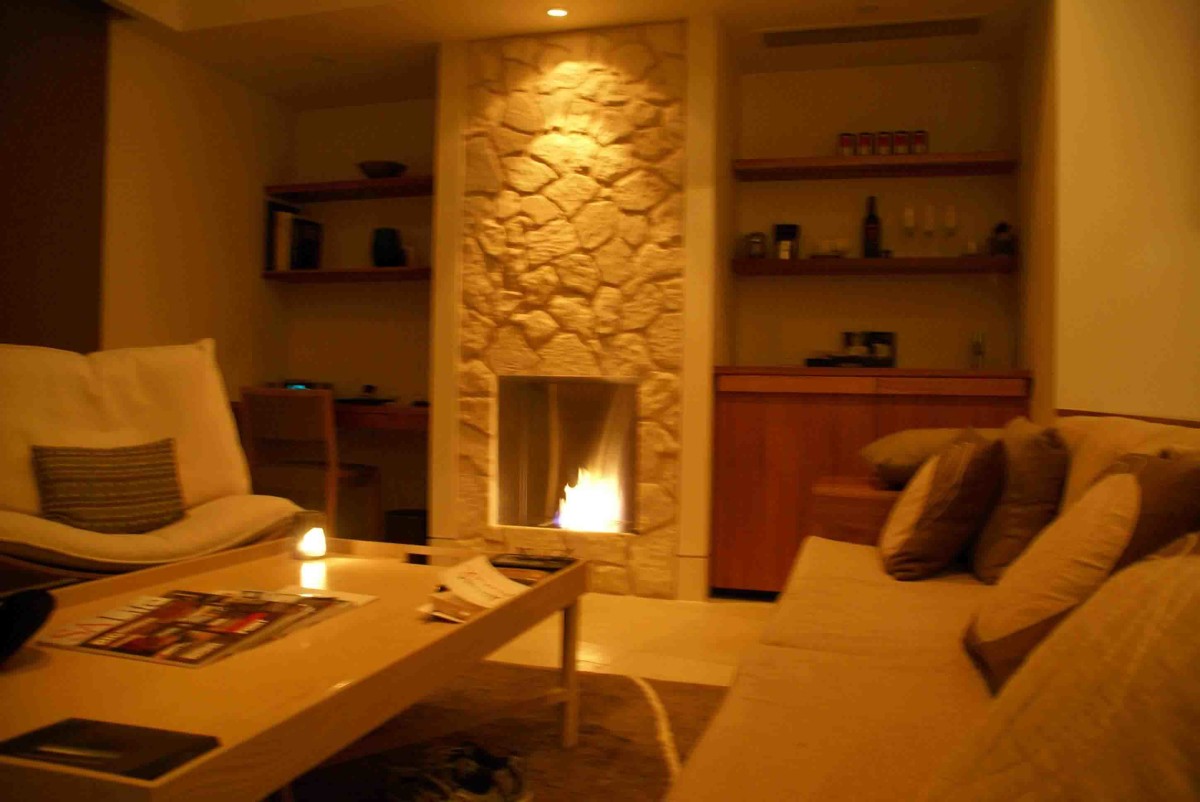 After we settled in we headed up for lunch, lunches are a 3 to 4 course event, with small but delicious serves show casing the islands produce, and accompanied by matched wines. The food was amazing. I think we may have to get into some serious training when we leave here.
We had a free afternoon, so we spent sometime exploring the Lodge and then relaxing in our room before we took a walk down to the beach.  To get there, we walked along a boardwalk through the low malley type scrub to a rocky point with a table and chairs (this would be a great place to take a bottle of bubbles and crayfish 🙂 ). After taking a left turn off the board walk it was a short walk to Hanson Bay Back Beach. The tide was on the way out so there was plenty of beach for us. The sand was very fine and fluffy, and very hard to walk on as you sank 5 to 10cm with every step, even at the waters edge. We walked to the end of the beach and decided it was time to go back and just relax in our room.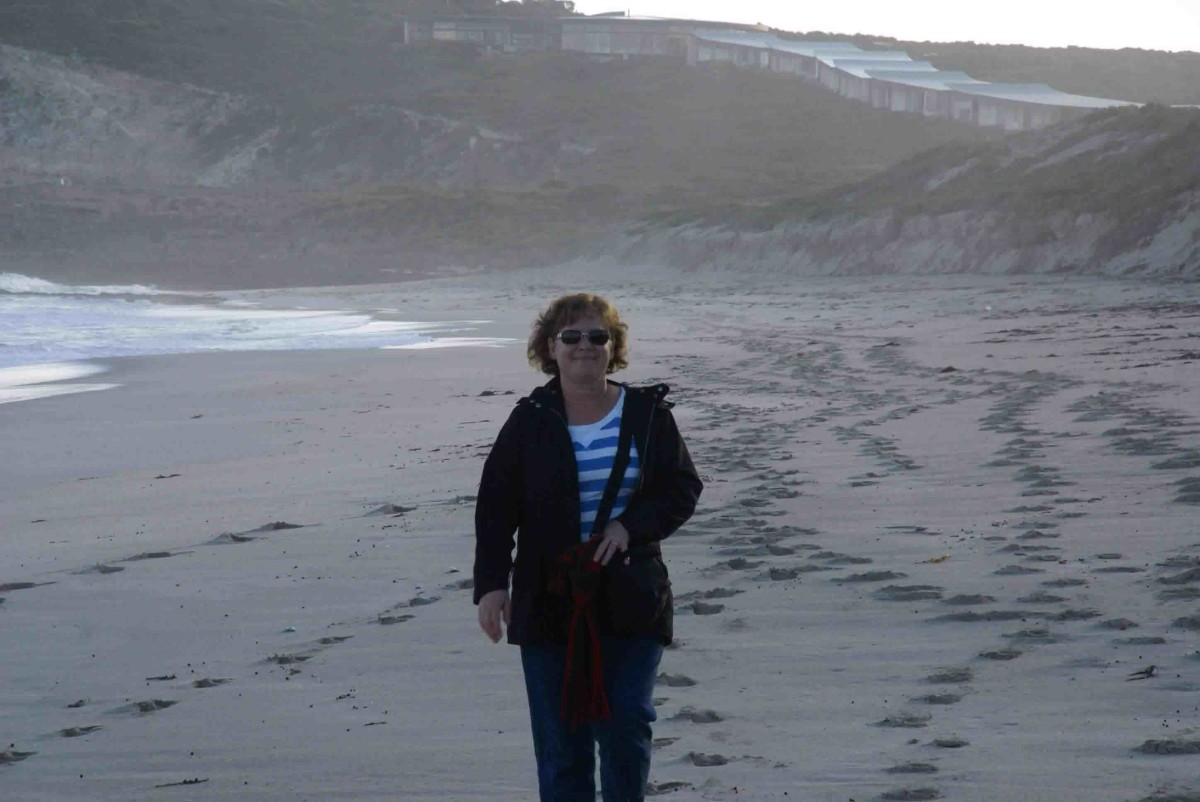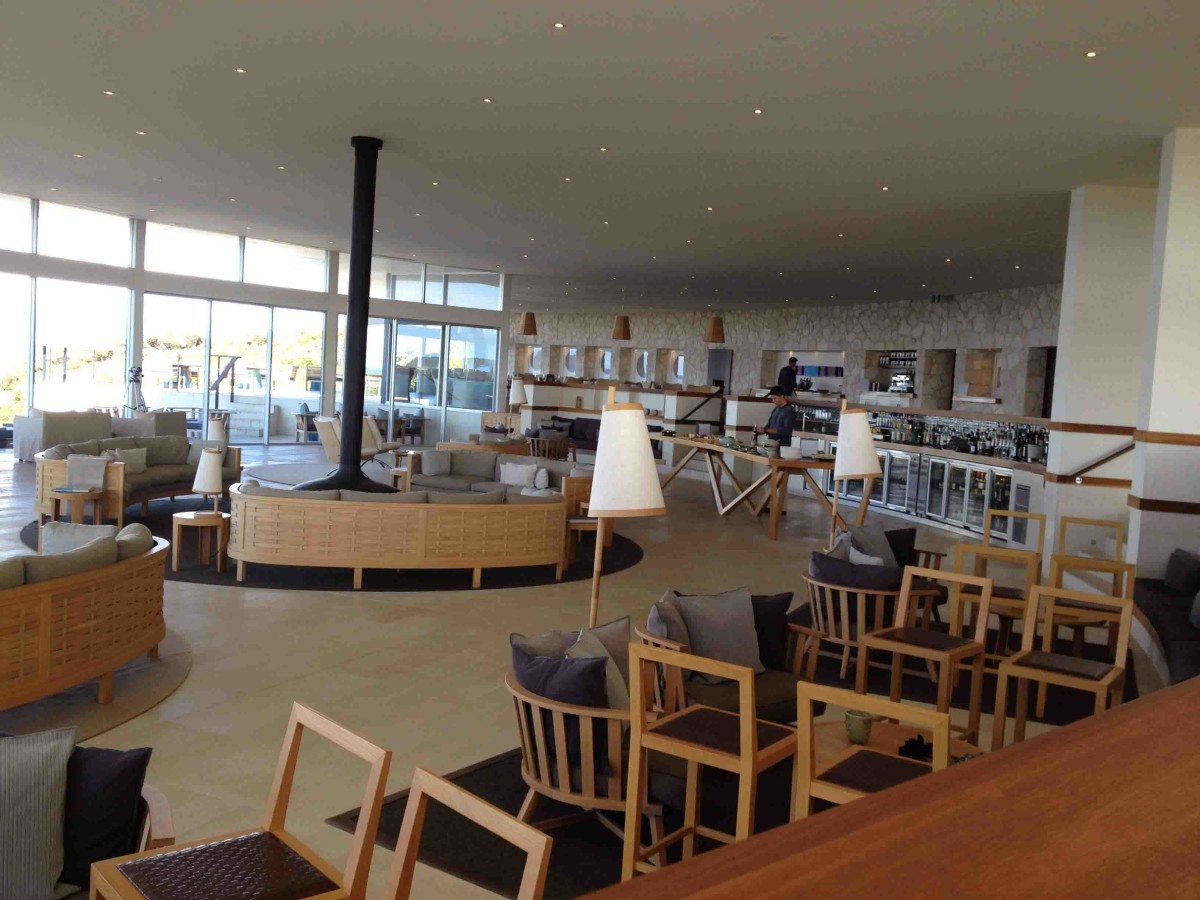 Canapes and drinks at 6pm with Dinner 7pm. We made our selves comfortable in front of the log fire in the Great Room, and I got us a drink each. The Canapes were amazing, with a hint of "Blumenthal", in one case what you saw and thought you were getting was far from what the flavours were, small white Marshmellow looking cubes on the end of bamboo skewers, turned out to have an intense tomato flavour, crazy, delicious.
This was followed by a 4 course dinner with matching wines, yum.
After dinner I helped myself to a small balloon glass of grandfather port and we retired to our room. We got back to our room to find the fireplace lit and an oil burner alight on the coffee table, very nice. 🙂 After a while Deb indulged in a very relaxing bath and I sat and read, sipping my port. We could both see that this was going to be a very indulgent experience.
 19th May SOL Day 2
We were both very happy when we woke and found that the sun was up, I raised the automated blinds from our bed and we laid there together for a while taking in the view and the calm of the morning. We had a free morning so we were in no hurry. We made a cup of tea and coffee and decided we might go for another walk on the beach after breakfast. We eventually made it up to the dining room around 9:30 and had a very tasty breakfast.
We headed back to our room and while we relaxed and gathered ourselves together it started to thunder and rain. So out came our books and we chilled for the morning. Sunday lunch was a mixed affair, a buffet of king prawns and gourmet meats and salads to be followed by a plate of mixed BBQ'd skewers. So tasty, and of course matching wines!!
Our afternoon was pretty full, it started with a guided tour of Seal Bay, there were 3 of us on the tour (Us and the American travel writer). So the three of us plus the SOL guide and the National Parks guide all headed down onto the beach in amongst the seals. I guess there were about 50 or so seals on the beach and we got up fairly close to about 20 of them (there are about 1000 in the colony). It was interesting watching the males sort out who was boss, with a bit of push and shove, a bit of biting and chasing. I think the highlight of the tour was watching a seal and cormorant chasing each other around in the shore break, trying to get the best of a school of fish that seemed to be moving around in the area. I think the bird won!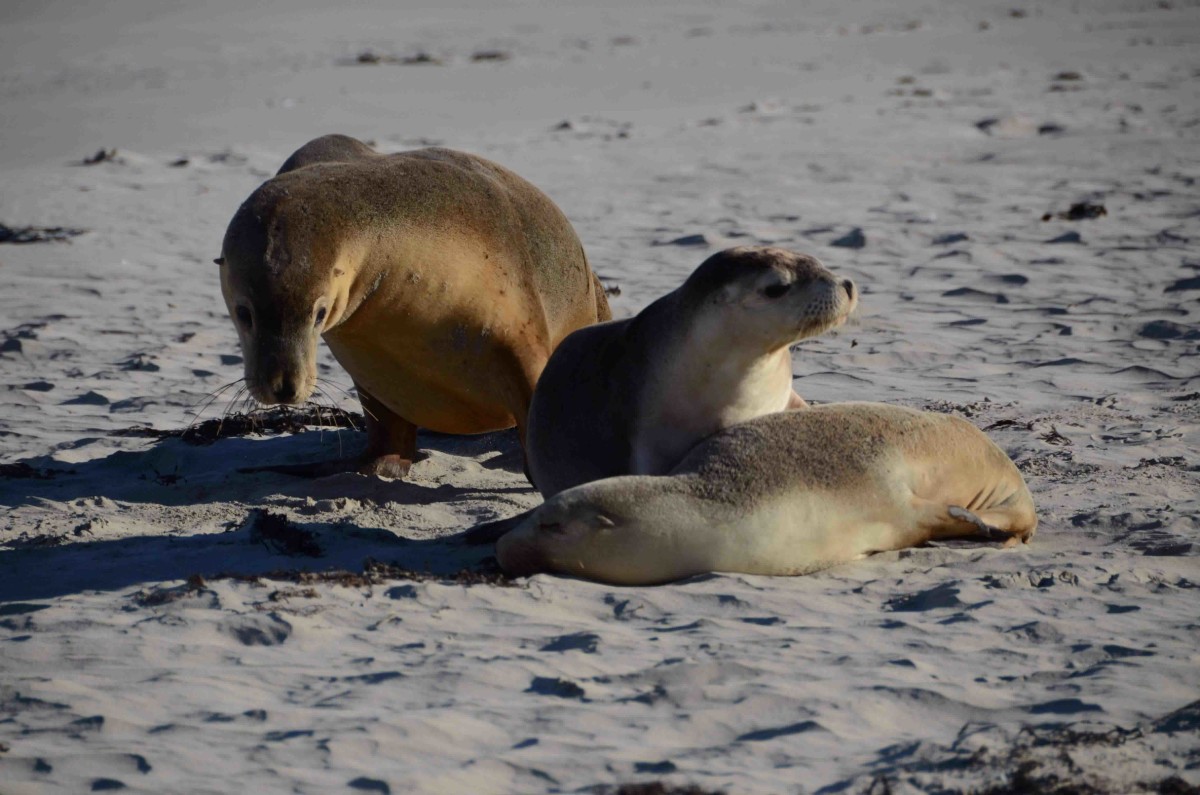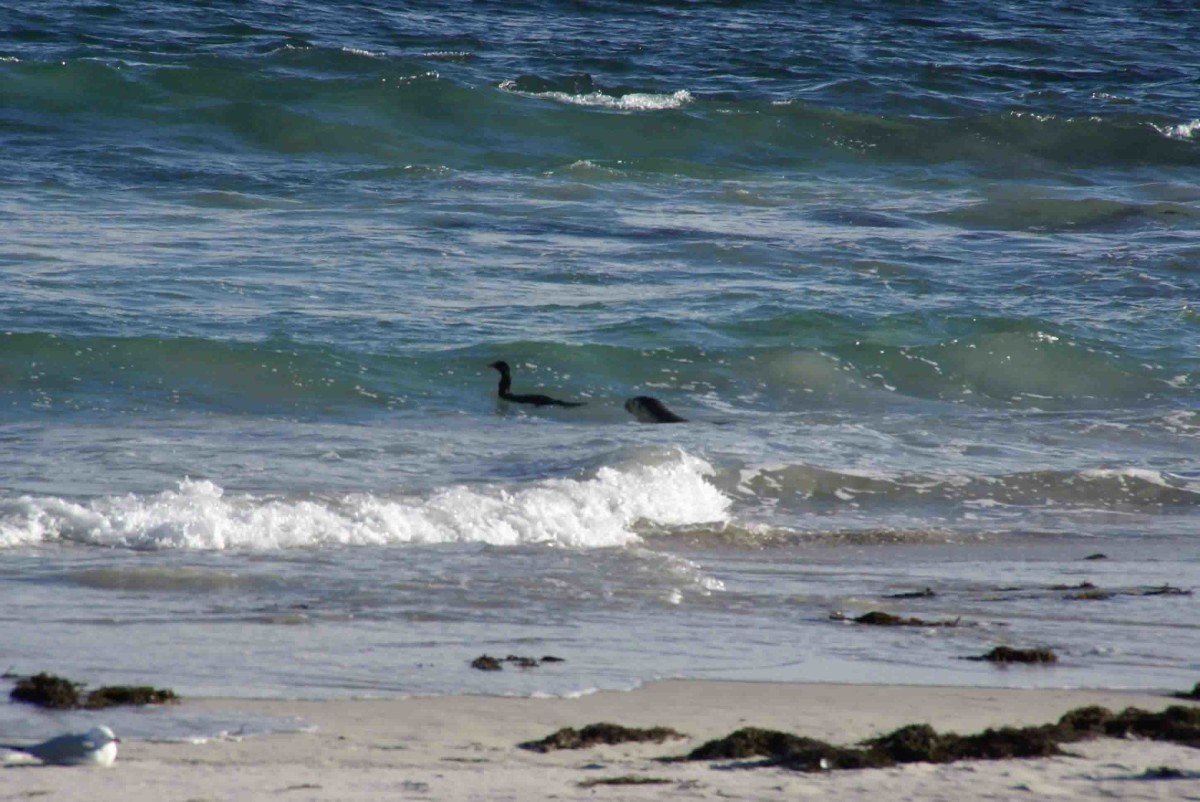 After that we went back to the SOL and after a 10 minute break we headed out again for a "Kangaroo and Canapes Experience" at Grassdale, an historic homestead adjacent to  SOL. We were given a brief history of the Grassdale property and its most recent owners on the drive in and then stopped at the original settlers cottage, adjacent to a large cleared grassy field where many Kangaroos were feeding. Our guide gave a us a bit of a talk on the difference between Kangaroos and Wallabies, and the difference between those on KI and the mainland. As we were watching the kangaroos feed in the field the heavens decided to open up, and we headed for the closest shelter we could find, under the branches of a large pine tree (which didn't really offer that much shelter), it was then that it started to hail!!  LOL  The hail didn't last long and we then made a dash for the homestead where our guide had set up a table with Canapes and drinks (everything from bubbles to beer). So we all stood around nibbling on the canapes , drinking and chatting as the sun went down, and the Roo's kept munching on the grass in the rain. Driving out was a cautious thing for our guide, there were so many very small wallabies on the road.
After we got back we decided to skip pre-dinner drinks and canapes at SOL, instead taking a little time for ourselves in our room. Dinner was delicious again. From Prawn Capatchio (yes they came the raw prawn with us!), marron to Goose done 2 ways. Deb commented that she doesn't know how she would go doing this 5 star dining 3 meals a day for very long, and I know what she means. The food is great, but it can't be very good for you to eat this way every meal every day!! Not that we are complaining or anything. 🙂
 20th May SOL Day 3
We woke late this morning, 7:40, which was so good. We had a Cliff Top walking tour this morning at 9:30, so we had to get ourselves moving a little quicker than we both would have liked. Breakfast was delicous, Deb had muesli followed by poached egg with smoked salmon, while I had poached eggs with smoky bacon and an amazing mushroom mix. A good job we had the walk to follow it up. 🙂
The Cliff Top walk took us west from the lodge, past the Spa, and yes, along the cliff top! The vegetation and geology were all really interesting and presented to us in a very casual but informative way by our guide, Lauren. I loved the KI version of petrifed wood, the calcified remains of old trees perched on the edge of the cliffs.  All the guides seem to take pleasure in reminding all the guests(and particularly the overseas guests) of the venomous nature of the Tiger and Copperhead snakes. 🙂  The walk took us to the end of a point where we got a great view back to the Lodge, and it showed us how well the Lodge blends into the coastal landscape. The walk lasted a bit over 1 1/4 hrs and was followed by a brief, but very informative powerpoint presentation on the history, geography, geology and ecology of the island.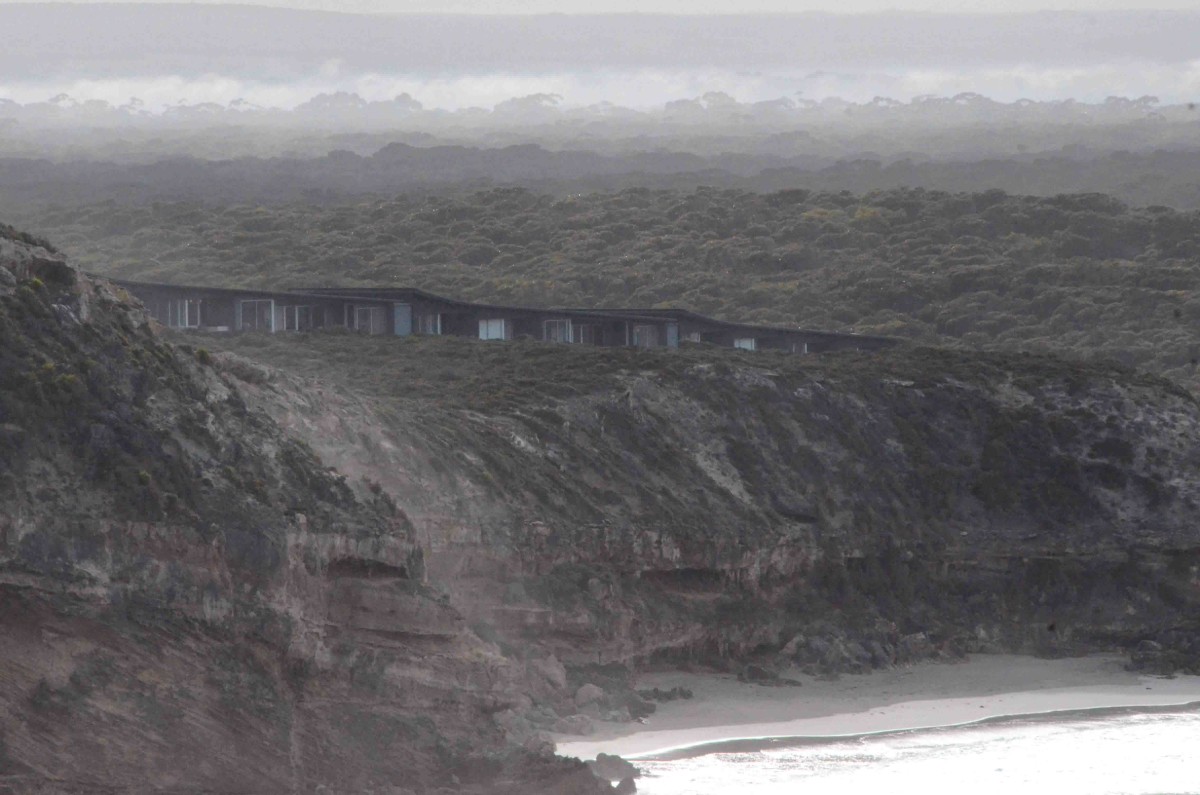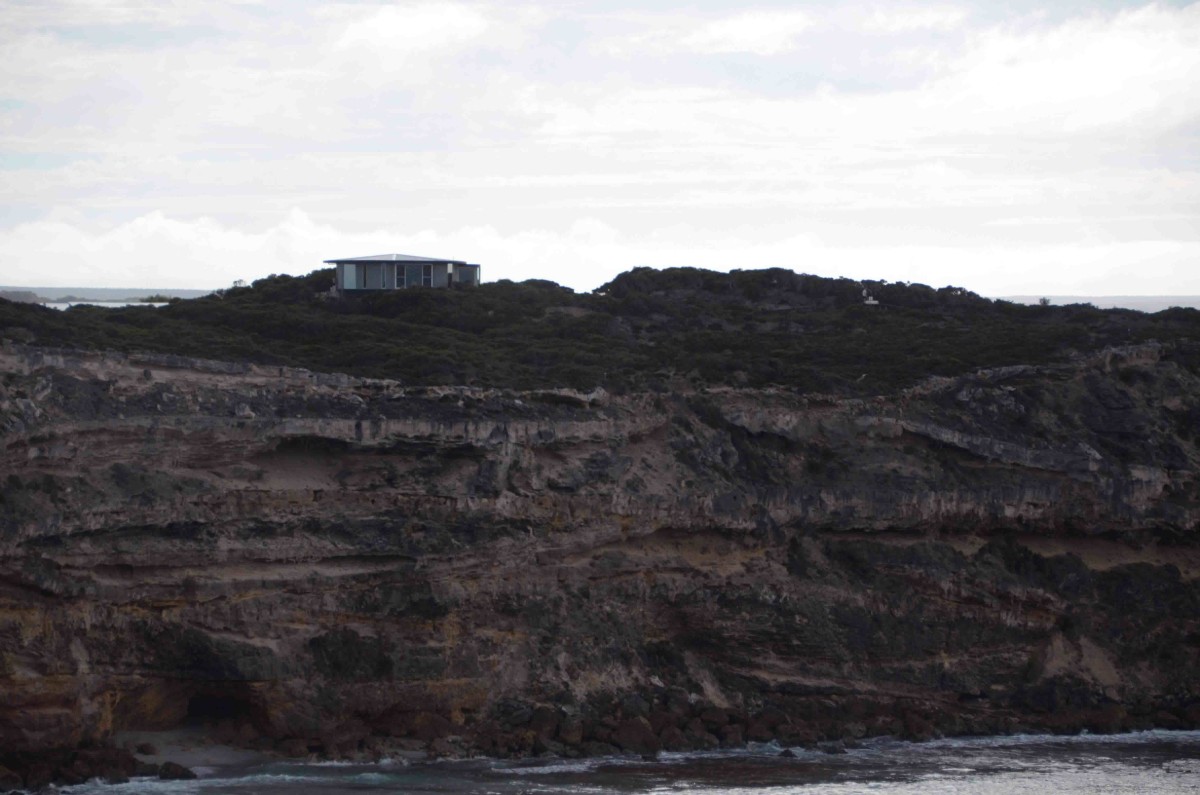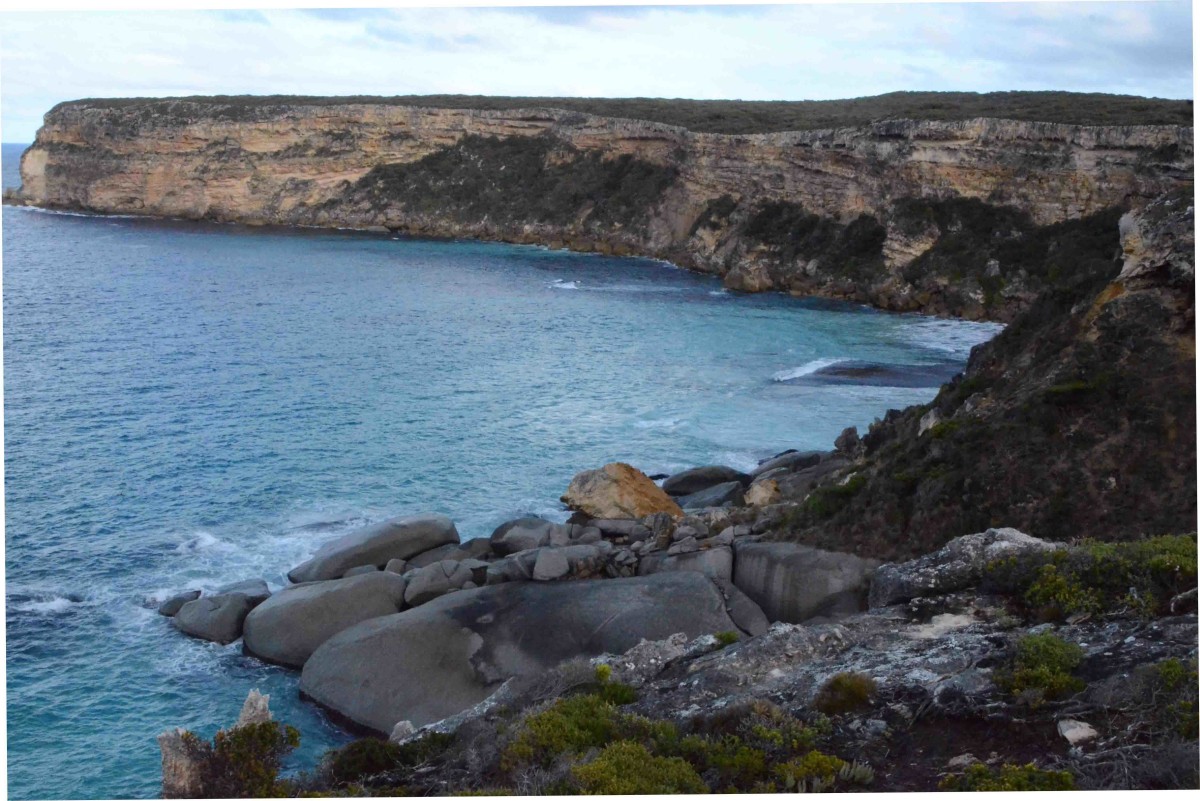 Deb has a Spa treatment booked for this afternoon and I have a quiet afternoon planned with a good book (Shantaram – thanks for the recommendation Michelle – priming me up for a month in India later in the year).
We both enjoyed a quiet afternoon and evening.
We headed up to the Great Room for canapes and predinner drinks, had a look through some more of the "coffee table" books scattered around the room and then had a very pleasant dinner before retiring for the night.
 21 May Day 4 SOL
At 9am this morning we were meant to go on a "Wonders of KI" tour, that took in the Remarkables, Admirals Arch and Flinders Chase NP, amongst other "highlights'. But as we woke at 7:40, and were in no hurry to get out of bed, we decided to give the tour a miss (We have seen it all before anyway).
So a very leasurely breakfast was on the cards. We got up to the dining room and it was totally empty, our waitress Sally, asked if we minded waiting a minute as they were sooo busy! No need to say I guess, but we got on very well with Sally.
It was so good having the whole dining room to ourselves, the food was good and company even better. After we finished breakfast we took our tea and coffee into the lounge room and sat at the windows, looking out to sea and along the coast, very relaxing.
We both spent the morning reading, Deb in our room and me up in the lounge room. It has been so good to take time out and just relax.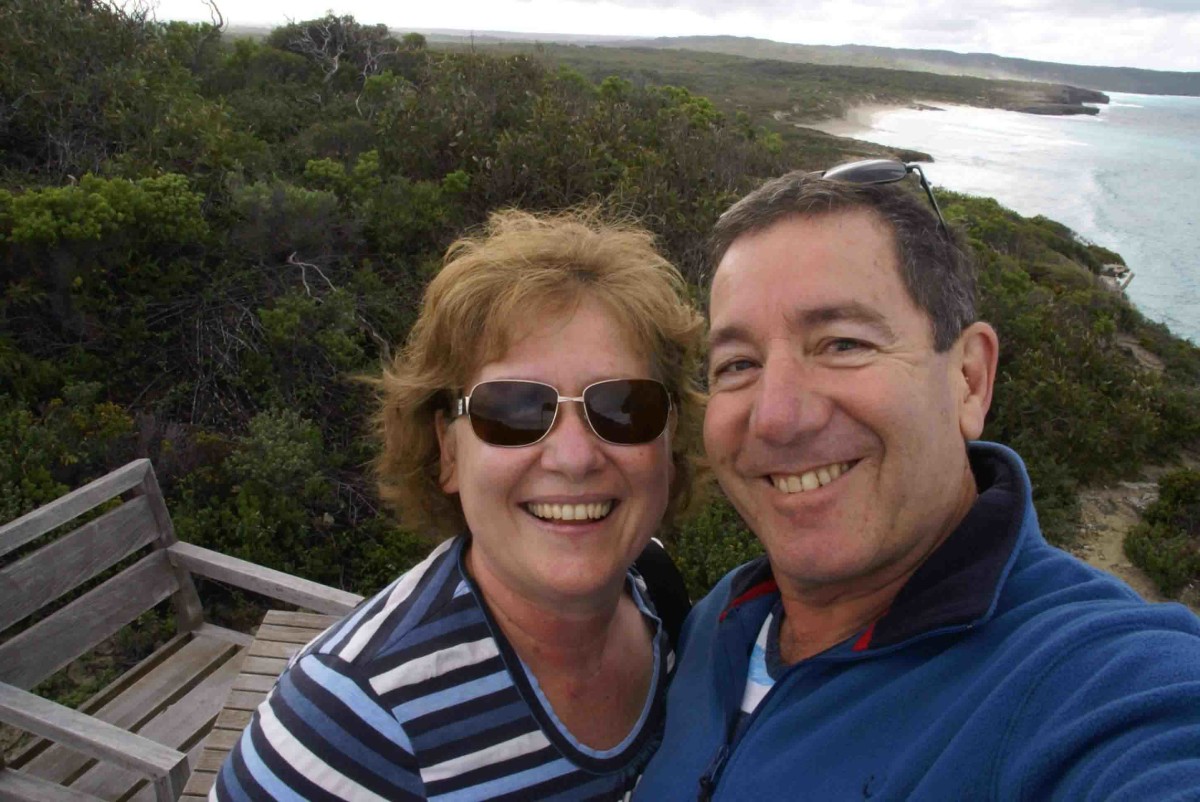 After a delicous lunch we had more reading time and a quiet afternoon, Deb managed to get up the energy to have a relaxing bath. I managed to make a mess of our room, somehow I got the plunger coffee maker to squirt hot coffee and grounds all over me, my bathrobe and a good portion of the room around the minibar! Can't take me anywhere without causing trouble!
We are packing this afternoon, then dressing for our last canapes and dinner at SOL. We are on the morning flight home. Just a note to ourselves and anyone else that may read this and want to come to SOL, take the morning flight onto the island and the afternoon flight off the island. The SOL will take care of you all the time you are here and you get to make the most of all your time here.
 22 May Day 5 SOL
Our last morning, day, at SOL. 🙁
We were both awake before 7am and I raised the room blinds (using the bedside controls), so we could lay there and take in the start of the day as the sun rose. Our view is to the south, so we don't actually see the sunrise, but we get the colour and feel of it. We essentially packed last night so the going was pretty easy this morning. We were up at breakfast at 7:30 (a feat in itself, we hadn't been awake by then any other morning!), and had a delicous lazy breakfast watching the sunrise over the fog covered bush and the waves breaking onto the misty coastline. Yes, we both still love that view.
After breakfast we retired to our room to finish packing and went to reception to check-out while the porter collected our bags and loaded them into the car that was taking us to the airport. It was sad to sign-out, we were leaving. 🙁
The ride to the airport took about and hour and we were on the plane by10:15 and back on the ground in Adelaide a bit before 11am, and home by 11:20am. So quickly back to reality!!
We both agreed that if the chance arose, we would love staying at the Great Ocean Lodge again, anytime, but winter seems to be a great time, the occupancy is low and you get whales migrating passed and maybe even wild winter seas.
If you have got this far thank you. I am having issues with this new WordPress version and can't figure out how to post photos into the blog. As soon as I have it sorted I will up date this blog. 🙂
Number of View :32363