Wednesday 10 November 2010
Today we headed out at about 9am to go to Sovereign Hill in Ballarat. After a 1 ½ hr drive we arrived in Ballarat and made our way towards the Eureka Centre and Sovereign Hill. However, first stop was a bakery for morning tea, :-), then onto the Eureka Centre.
The Eureka Centre is located adjacent to the area of the famous Eureka Stockade rebellion, the event that is often described as the start of our national identity. Unfortunately it was closed for redevelopment and not open again until 2012, so we were a touch early. We read a few plaques and things about the rebellion before heading out back to Sovereign Hill.
In through the gates at Sovereign Hill and we went straight into the information centre to see what it was all about, it didn't take long before we all looked at each other and decided it was time to go out and explore. We headed up the main street, it was like stepping back 160 years, there were people in period dress everywhere and all the buildings were the real deal working shops and businesses. We had a look in a bakery, a pub, a haberdashery, a blacksmiths forge and workshop, and many others. In the blacksmiths workshop we saw a man using a belt driven spindle making steel bowls. Dante and Tessa were very interested in it. We also watched a "Gold Fields Trooper" (an ex convict from Van Demons) show us all the "tools of his trade", these included a set on 1 size fits all hand-cuffs (if they were too big, he just belted the wrists of the person until they swelled up to fit), a very solid baton (or persuader), and a musket rifle. He also showed us how to load and fire the musket, it was all very interesting and in the end very loud!
We walked up and booked a mine tour, then continued exploring the town. We saw horse drawn water tank, a stage coach, a big group of school children dressed like they would in the 1850's and being lectured at by a very strict looking teacher who wore a big top hat. We had a go at 10 pin bowling 1850's style. We walked through the old Chinese camp, had a go at panning for gold in a creek, had a look through an old gold miners supply shop, had a look in the town Battery, where all the ore was crushed and gold extracted. We then saw a group of "Red Coats" march around town and then assemble at a small square where they all fired their riffles.
We then went to the mine for our tour. It all started with a 1 minute ride down into the ground in a mine train. It was pitch black as we descended, (you literally couldn't see your hand in front of your face) and we emerged in a dimly lit chamber, 30m underground. We were then taken on a walk back in time to see how the mines were worked back in the 1850's and the harsh conditions they worked in. The average miner had a life expectancy of about 40 years, 10years shorter than others not working underground. The kids really enjoyed it.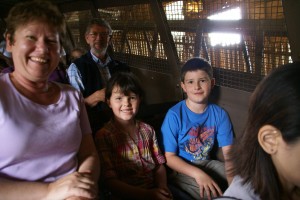 After the tour we went to see how confectionary was made back then, it was pretty interesting, but they had all sorts of problems with the machines clogging up with the sticky gooey mass. Dante and Tessa had both bought a jar of lollies from the store shop earlier in the day, and could both attest to how good the lollies were. 🙂
We then went to see some gold smelting. (Well, they talked about smelting, but actually only remelted an existing gold bar.) After an amusing discourse the foundry man poured a gold bar, and then cooled it in water. The value of the bar was $130,000, he let a couple of people hold it before putting it back in its holding safe.
After that, we walked around a bit more before leaving "Sovereign Hill". The kids then had a good look through the gift shop, where Dante bought a card game and Tessa got herself a stuffed toy horse, which she has since named "Beauty". We then walked over the road to the gold museum. After a quick look around we eventually left Sovereign Hill and Ballarat around 4:30pm.
We stopped in Ararat for fuel and bought some pizzas for tea. (Carly Eagle Boys do all their pizzas GF). We then drove up to the lookout at the top of One Tree Hill to eat them.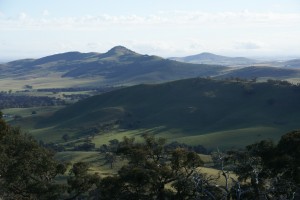 It was an amazing, almost 360 degree, view from up there over the Ararat township and surrounding countryside.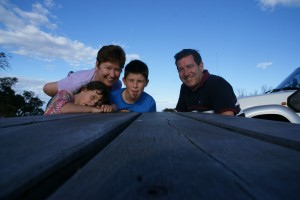 We eventually got back to Halls gap around 7pm.
We finished our day with sparklers around the campfire.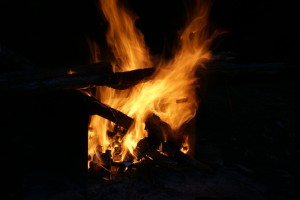 It was long day full of adventures and lots of laughs.
Thursday, 11 November 2010
A slower start to the day today, beginning with a big breakfast of bacon and eggs, which we all enjoyed.
We then set out for a short walk to the Venus Baths.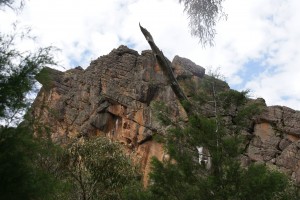 Dante and Tessa both enjoyed the walk, although neither of them raced ahead as they did when we started up to the Pinnacle. Along the  way and at the Baths, there were hundreds of caterpillars everywhere. Dante and Tessa had lots of fun climbing the rocks and jumping around the water. Just as were leaving we saw a good sized yabby trying to cross the stream flowing over the rock, it wasn't very successful, and was eventually washed downstream a bit.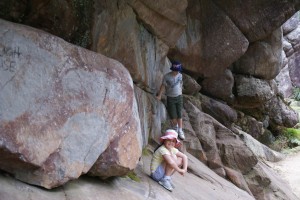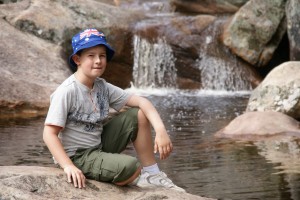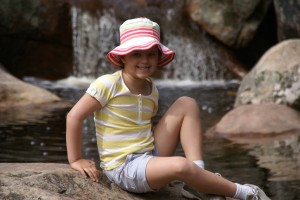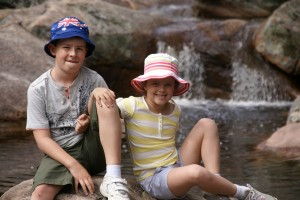 After walking back to camp, we got into the car and headed off sight seeing. First we went to Boraka Lookout, and took in the spectacular views. Dante enjoyed throwing rocks and sticks off the high cliff. We all had a good laugh when I yelled "ouch" when one landed!! We then drove to Reid Lookout for the vast bushland views and then drove down Lake Belfield via the Victory Falls road. The Lake is fuller than last year, but still well below its capacity.
The kids spent the afternoon in the pool while Deb and I just enjoyed relaxing keeping an eye on them playing and doing the blog.
We are going to get another icecream on the way back to the tent.   Dante and Tessa have had their fair share of them this holiday!  They have found the shop that they think has the best ones – they have tried every shop!!
Later we will play some more cards and tomorrow we head home.
Dante and Tessa have been wonderful company, we have all had lots of fun together J
Number of View :58376